Skip to Content
Burn Calories and Have Fun on the Tennis Court
Tennis is an inspiring, competitive, and calorie-burning exercise that exceeds the health benefits of many other activities. More importantly, tennis is an activity that you can perform regardless of athletic ability and age. Many of our members enjoy tennis for precisely those reasons. Whether you want to play for fun or join a league, tennis is an endlessly rewarding sport to learn. And, at Spare Time Sports Clubs, we have over 50 nationally-certified tennis professionals who can help you learn or sharpen your skills and enrich your enjoyment of the sport.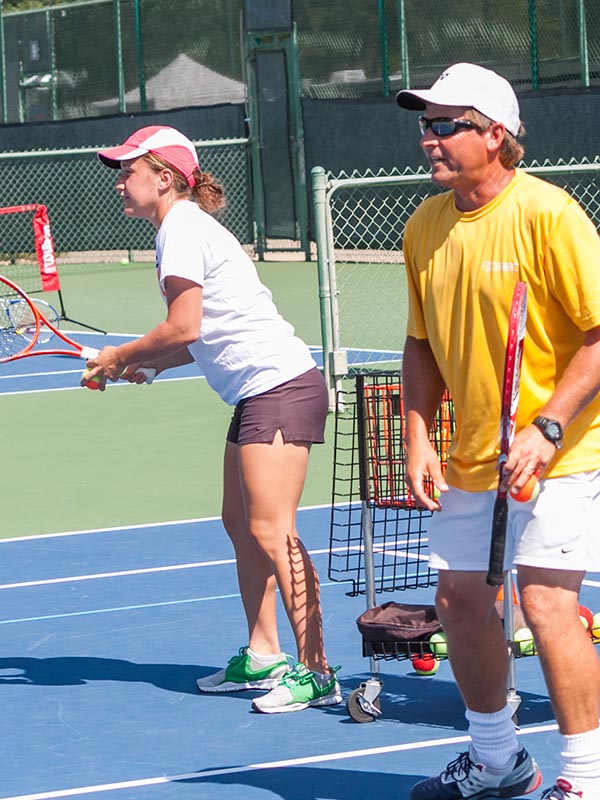 USTA and SATA Recreational Tennis Leagues
We are proud to play host to numerous recreational and competitive tennis leagues. We participate in the United States Tennis Association (USTA) league programs. The USTA leagues are the country's largest recreational leagues and provide organized, structured team matches for tennis players of all abilities. Leagues are organized based on rating levels to ensure good competition. We also host the Sacramento Area Tennis Association (SATA) local leagues, which take place in the spring, summer, and fall. SATA offers numerous tennis leagues to over three thousand players in the area. In addition, we offer various in-house leagues at our clubs for those who prefer to play among members at their home club. If you are interested in joining a team to compete against other players, contact us today.
Universal Tennis Rating (UTR)
Universal Tennis Rating (UTR) is a user-friendly, global platform, rating system that provides a single, unifying language and standard for tennis players across ages, geography, gender and economics. UTR helps connect players to participate in level-based play. It provides events and tournament play for juniors and adults
Let Us Help You Elevate Your Tennis Game
Our tennis professionals have years of experience not only playing the sport but teaching it as well. They are passionate about helping individuals realize their potential and instilling that same passion in those they instruct. Tennis is an excellent way to get fit while also being a very social sport. It's a sport you can perform your entire life. At Spare Time Sports Clubs, we provide both adult and junior programming including tennis orientations, tennis clinics, drop-ins, small group and individual tennis instruction.
Our Elite Junior Tennis Academy
For the highest level junior tennis training Spare Time Sports Clubs also offers the Spare Time Junior Tennis Academy. This program maximizes the individual development of highly motivated, accomplished, and competitive junior tennis players to train year around, 5 days a week. We are committed to helping every player unleash their full potential – something our instructors accomplish through their experience and expertise. We offer a free try-out for the serious tennis player along with family-friendly, multi-child discount.
Elevate Your Fitness Journey Today
Programs and activities vary by location. Please contact the club nearest you for details.