Skip to Content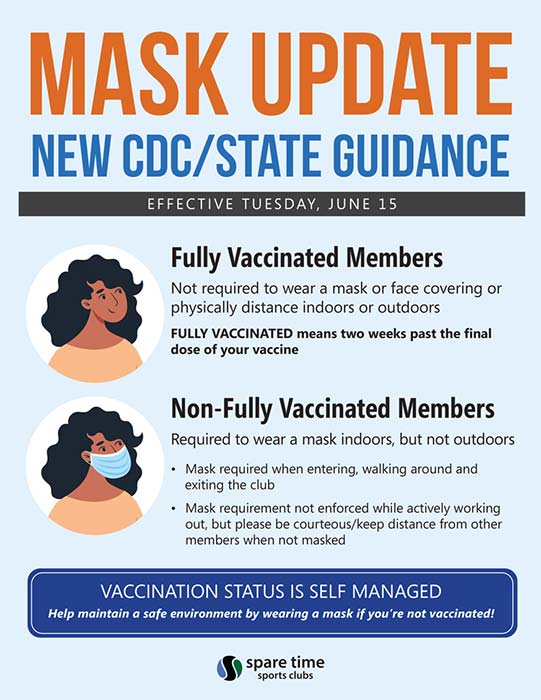 The California Department of Public Health has eliminated numerous COVID-19 restrictions effective June 15. The color-coded tier system for reopening businesses will be eliminated, allowing our clubs to return to more normal operations with fewer restrictions and limitations.
One major change is that the State will adopt the new mask recommendations recently issued by the Centers for Disease Control and Prevention (CDC) stating that people who are fully vaccinated no longer need to wear face masks or physically distance in most outdoor and indoor settings. This new guidance was based on additional studies regarding the effectiveness of the vaccines and the declining COVID cases that have resulted as the distribution of the vaccines continues.
Effective June 15, we are revising our mask policy to reflect the new CDC and State Public Health guidance as outlined below.
Fully vaccinated members and employees will no longer be required to wear a mask indoors or outdoors at the Club. Fully vaccinated members and employees can still wear a mask at their option.
Members and employees who are not fully vaccinated, including those who have previously tested positive for COVID but have not been vaccinated, will continue to be required to wear a mask indoors at the Club, except we will not enforce the mask requirement when a member is actively working out. When removing the mask to work out, members should be careful to maintain proper distance from other people. Members are expected to self-manage the wearing of masks and help maintain a safe environment for other members by wearing a mask if they are not fully vaccinated!
A person is considered fully vaccinated two weeks after receiving the final dose of the vaccine – the second dose of the Pfizer and Moderna vaccines and the first dose of the Johnson & Johnson vaccine.
Management remains confident in the measures implemented to provide a safe environment for our members and employees. We have been maintaining proper distancing, using protective equipment and employing enhanced cleaning and sanitizing procedures. Our tracking and reporting procedures have helped identify and remove potentially exposed members and employees from the Club until it was safe to return. As a result, companywide we have had approximately 900,000 member visits since we initially resumed operations in May 2020 with zero reported transmissions of COVID at our clubs.
Regular exercise is an important component of an active and healthy lifestyle. The reduced physical activity and social interaction that we have experienced this past year have had a detrimental effect on our physical and mental wellbeing. With the extensive distribution of vaccines, the decline in the number and severity of COVID cases, and the easing of public health orders, now is an opportune time to resume some of your regular fitness and recreation activities at the Club if you haven't already.
We are excited to be taking further steps back toward "normal," and we look forward to seeing you at the Club soon!